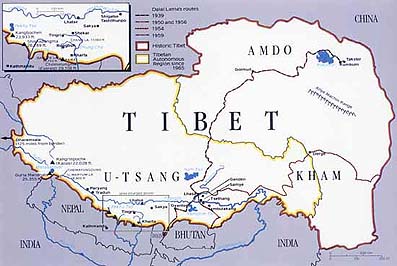 This article is about historical/cultural Tibet. For the administrative region of the People's Republic of China, see Tibet Autonomous Region. For other uses, see Tibet (disambiguation).
Cultural/historical Tibet (highlighted) depicted with various competing territorial claims.
Tibet Autonomous Region within the People's Republic of China
Historic Tibet as claimed by Tibetan exile groups
Tibetan areas as designated by the People's Republic of China
Chinese-controlled areas claimed by India as part of Aksai Chin
Indian-controlled areas claimed by China as part of Tibet
Other areas historically within Tibetan cultural sphere
Tibet (Tibetan: བོད་; Wylie: bod ; IPA: pʰø̀ʔ; Chinese: 西藏; pinyin: Xī Zàng) is a plateau region in Asia, north of the Himalayas, and the home to the indigenous Tibetan people and some other ethnic groups, such as Monpas and Lhobas. With an average elevation of 4,900 metres (16,000 ft), it is the highest region on Earth and has in recent decades increasingly been referred to as the "Roof of the World".[1]

During Tibet's history, it has been an independent country[2], divided into different countries, and a part of China each for a certain amount of time. Tibet was first unified under King Songtsän Gampo in the seventh century. A government nominally headed by the Dalai Lamas, a line of spiritual leaders, ruled a large portion of the Tibetan region at various times from the 1640s until 1950s. During most of this period, the Tibetan administration was subordinate to the Chinese empire of the Qing Dynasty. The 13th Dalai Lama proclaimed Tibet independent in 1913, but this declaration was not accepted by China, nor recognized by any country as a de jure independent nation. As a measure of the power that regents must have wielded, it is important to note that only three of the fourteen Dalai Lamas have actually ruled Tibet; regents ruled during 77 percent of the period from 1751 until 1960.[3] The Communist Party of China gained control of central and western Tibet (Tibet area controlled by the Dalai Lama) after a decisive military victory at Chamdo in 1950. The 14th Dalai Lama fled to India in 1959.

Today, Tibet is administered by the People's Republic of China (PRC) (Mainland China) and still claimed by the Republic of China (ROC) (Taiwan) in its constitution[4] while a small part, according to the PRC and the ROC, is controlled by India. Both sides of Chinese government regard Tibet as part of China.[4] Currently, Beijing and the Government of Tibet in Exile disagree over when Tibet became a part of China, and whether the incorporation into China of Tibet is legitimate according to international law[5] (see Tibetan sovereignty debate). Since what constitutes Tibet is a matter of much debate (see map, right) neither its size nor population are simple matters of fact, due to various entities claiming differing parts of the area as a Tibetan region.

Last edited by TubHmoob on June 4th 2009, 5:02 pm; edited 3 times in total